Digitally Enable Your Reps To Support Specialty Retail Accounts
Is your brand looking to empower your reps with digital tools? Envoy B2B provides the tools to turn a good rep into a great rep. They include:
A mobile-first content and commerce app
Digital presentations and storytelling tools
Replenishment and pre-book order recommendations
Easy content sharing
Ability to recommend assortments
Assortment campaigns for effective rep to retailer communication
Providing account Activity and Insights
Monitoring rep performance and activity
Reps play an incredibly important role for specialty retailers and directly impact the success of your brand. You need strong reps to put the right product in each store, open more doors, support your specialty retail accounts, and improve sell-though. Envoy B2B provides powerful tools to create an enabled team of reps, then support them throughout the entire seasonal journey.
Specialty retailers need reps. Here's why:
"The best thing for our store is a rep who communicates with us regularly, both through email and phone calls, but also in person. This helps all the staff put a face to the brand and keeps the brand at the forefront of all of our minds. Every brand that we sell makes great products, so good brand support can make all the difference in helping us understand and love it even more." [ See the research! ]
Ultimately, it boils down to 3 big reasons why specialty retailers need reps.


1. Educating their retailers on products
Looking for the perfect pair of shoes for your upcoming 5k, or the perfect snowboard for your trip to Aspen? Chances are you'll stop by your local retail shop and talk to an expert sales associate. But how do these sales associates become experts on the product they offer you?
Simple. Your reps work with the sales associates to provide education and training. Reps use the digital presentations, content sharing tools, storytelling options, and other features found in Envoy B2B to educate retailers and create brand evangelists.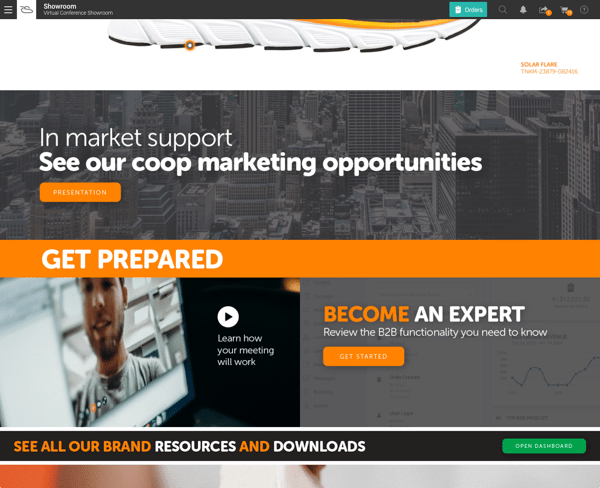 Envoy B2B allows reps to educate retailers with engaging content to help create brand evangelists in the store.
The number one thing retailers count on their sales reps for is education about the product.
80% of retailers said they need their reps' assistance to learn about a brand's products in order to better sell them. See the research!

Without brand reps taking the time to train sales associates on products and offer them the tools they need to succeed, the chances of your product being offered to a customer drop dramatically.
Retailers sell more of what they know, it's that simple. Enabling your reps with the tools found in Envoy B2B creates a direct line from your brand to the consumer, by educating retailers and powering them up with the right product knowledge to deliver personal, informative shopping experiences.

2. Offering assortment recommendations and merchandising suggestions
In addition to the education on how to sell a product, retailers need to understand that it will sell in the first place. Specialty retailers consistently look to reps for assortment recommendations and merchandising suggestions before they place their buy.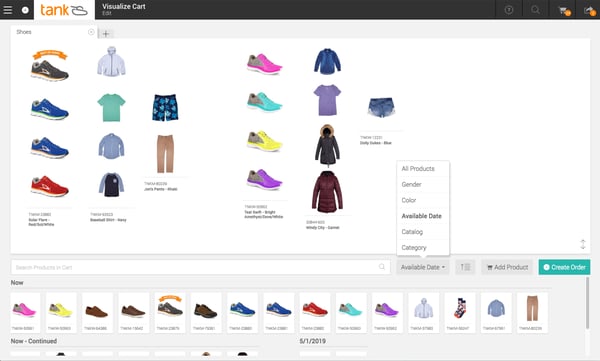 Reps can use our powerful merchandising tools to build better orders for their retailers.
Reps that understand what products are selling well for similar stores with similar needs is like giving those retailers a power up. Your reps can use that data to build smarter assortments and deliver merchandising suggestions.
To provide even more insights on consumer demand, check out Envoy B2B's integration with Locally.
Envoy B2B and Locally together enable reps to view trending products in each store in order to build hyper targeted assortments when they are relevant. No more waiting for the season to be over before learning which products spiked in sales. Catch the trend when it happens, and capitalize on it.
3. Suggested orders
Reps can take their well-thought-out assortment further by providing their retailer with suggested orders, complete with quantities. Retailers are busy, and they don't always have time to dive in and build out their own orders, and often rely on the rep for recommendations.
Looking at past season performance of a store, or what similar stores did for new accounts, allows reps to understand what kind of orders they should be recommending for each of their accounts.
What Retailers Say:

"My best reps know my business, they're not just order takers."
Reps are very important to specialty retailers. Need more convincing? Check out our research.


Digitally enable your reps with these 12 essential features
Reps are only as great as the tools they're using. Providing retailers with paper catalogs, old-fashioned order forms, and limited samples just won't cut it anymore. This is where Envoy B2B's modernized tools and features come into play.
Here are 12 features found in Envoy B2B, and the strategies that will let your brand create an all-star team of digitally enabled reps.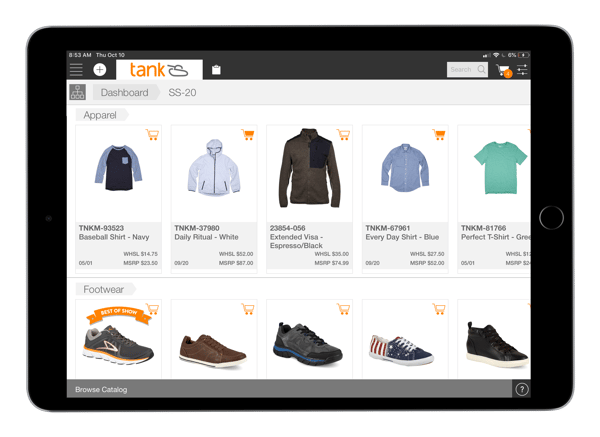 Digital catalogs offer incredible flexibility and can be shared, annotated, and customized by the rep for each of their accounts.


Digital Catalogs | B2B Opportunity #1, B2B Opportunity #6
Provide your reps with a digital, interactive version of your catalog or buyers guide.
Enable reps with digital downloads to share with their customer.
Allow retailers to use whatever device they prefer to make edits and take notes on the digital content you provide.
Digital Merchandising | B2B Opportunity #3
Visually line-plan in real time, inside Envoy B2B, as you showcase your products.
Share the final merchandised assortment with the retailer.
During or after the meeting, offer a digital order with the merchandised product.
Access to Retailer Data | B2B Opportunity #4
Allow reps to see data on their accounts' top customers, engagements, and products.
Surface abandoned orders for effective follow-ups.
Easily view account activity in order to focus on active accounts.
A window into a shop's current inventory levels so reps can quickly send pro-active replenishment orders.
Ability to see high-demand products across all accounts.

Rep Support at Each Stage of the Season
Reps have their hand in each stage of the Retailer Season Journey. Take a look at the seasonal journey below to learn how digitally enabled reps can support their retailer's all season long.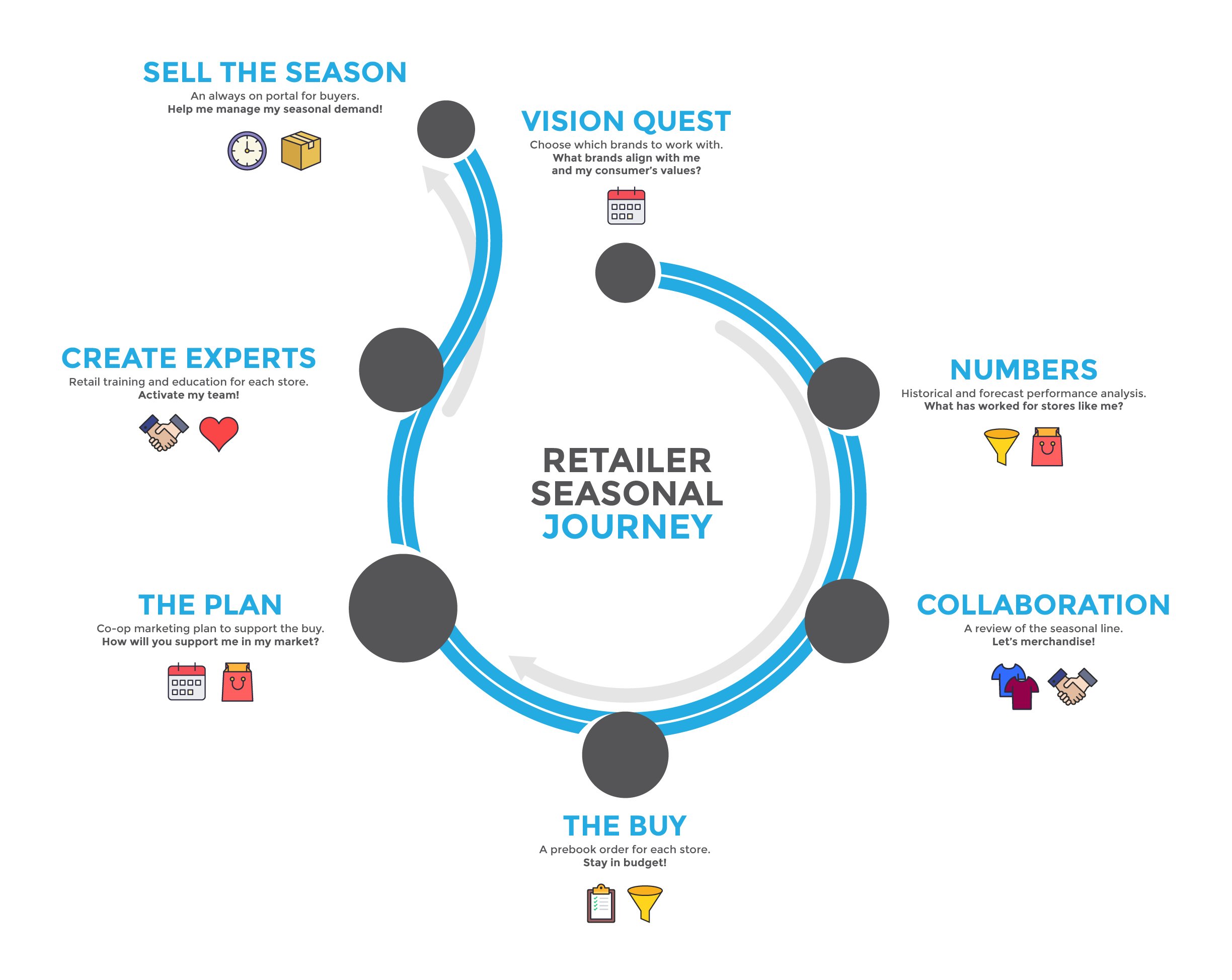 How the Reps Play a Part:
Through each stage, using Envoy B2B's platform can provide your rep with the tools and features they need to sell their season. Here's how:
Vision Quest: During the Vision Quest, retailers are deciding on which brands their store will carry. A great digitally enabled rep will paint the picture of their brand to showcase how they align with the retailer by using storytelling tools like digital presentations or lookbooks.
Numbers: Reps can use the activity and insights feature in Envoy B2B to answer the retailers' questions like, "How did similar products sell in my store last year?" or "What sell-through did this line have in specialty retail stores like mine?"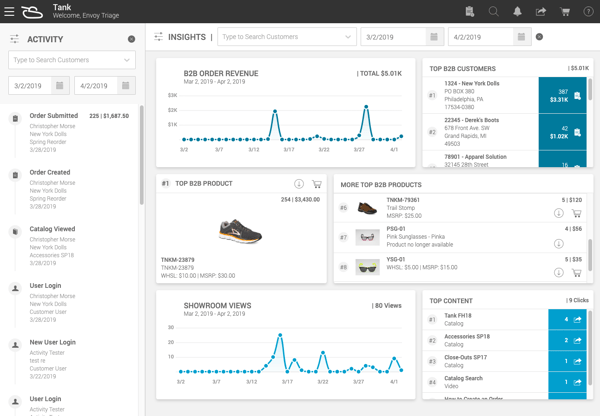 Reps can harness the data from our activity and insights dashboard to plan smarter orders for their retailers.
Collaboration: It's time for reps demonstrate their products either in-person at a tradeshow or with a virtual showroom, then work with the buyer to create well-merchandised suggested orders.
The Buy: With the education, tools, and information the rep has given the retailer up until this point, the retailer should be empowered to do this stage on their own. But if the retailers need further assistance, Envoy B2B gives reps the tools to build and share a suggested order.
The Plan: Products are on order, and now it's time to get the plan in motion to make sure it sells. Reps should be equipped with co-op marketing strategies to review and roll out with their stores. Give them a budget to use on their top accounts.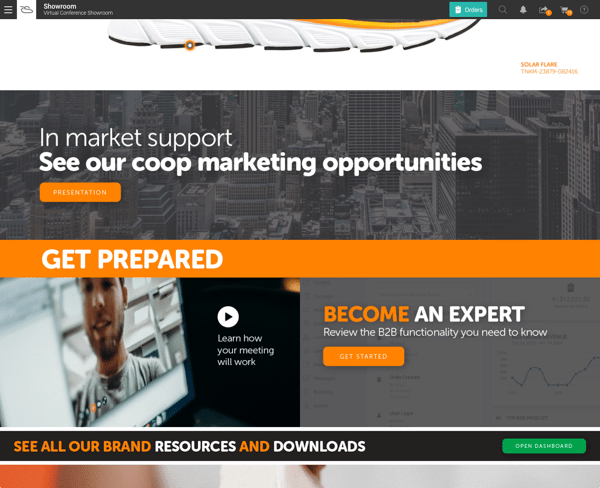 Showroom gives reps the ability to deliver engaging, educational content to their retailer's and create evangelists for your brand.
Create Experts: Educating the sales associates on your brand's products is a critical part of creating expert product evangelists. Setting your retailers up for success through clinics, as well as using Envoy B2B to deliver educational experiences, will ensure that sales associates are recommending your product.
Sell The Season: The product has hit the store's shelves, but a good rep's job is never done. Great reps stay in touch, using Envoy B2B to monitor inventory and offer suggested replenishment orders.
If you want to build a successful season for you brand, then you know that reps matters. One retailer from our research stated that "Continued and constant communication, seasonal visits, recommendations, and the ability to act as a 'partner' for the success of the brand and the success of our store" is a vital part of what makes a great rep. And you can't build great reps without great tools.
Do your reps have the tools?
Digitally enable your reps to sell every stage of your season through Envoy B2B!
Get started by modernizing your brand, digitally enabling your reps, and educating your retailers through our fully featured wholesale eCommerce platform.